News & Events

The Trust meets quarterly to consider Grant Applications received. The dates arranged for these meetings in 2019 are:
9 January
10 April
10 July
9 October
HMSST held their AGM on Wednesday 10 October 2018.
You can see the Annual Report and Accounts for the year to 30 June 2018 by following this link.
The Trustees are pleased to welcome Becky Wall BEM to their number as from 11 April 2017.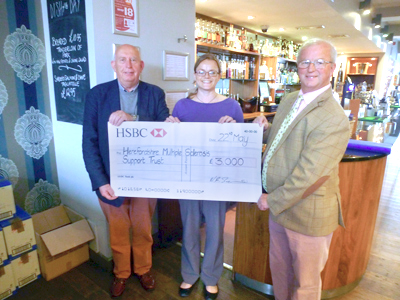 HMSST are the beneficiaries of £3,000 donated by Saxtys' Charity Clay Pigeon Shoot Day. The Saxtys' Shoot donates annually to local charities. Seen in the picture are John Pitt, Chairman of the Trust, Kay Parker, Shoot Organiser, and Neville Symonds of Saxtys.
The Clay Pigeon Shoot took place at the Griffin Lloyd shooting ground in Knighton on 25 April, and was followed by a sumptuous buffet dinner and prize-giving at Saxtys. Both Saxtys and the Trust thank those who attended for their generous support.
In September 2013 Brightwells organised a Golf Day in support of HMSST. The day raised £750 for the Trust, for which we are very grateful.
Terry Court (right) is pictured receiving the donation on behalf of HMSST.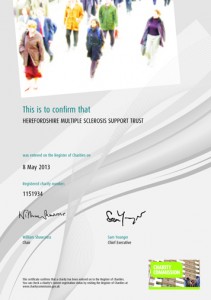 8 May 2013 and HMSST now has its registration certificate.