How to give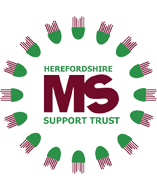 First of all, 'THANK YOU' for following the link to look at how to give to the

.
Established in May 2013,

is a new charity working for local Herefordshire people with MS. As such, we are in the process of setting up how we run, and in the early days we are not yet able to accept all the up to the minute waysWe are adding online giving
through Virgin Money Giving
and are looking at Text giving
that monies can be given to us.
Whatever the sum you want to give, it will be very welcome and all of it will be spent locally.Every £1 we raise is valued
and goes to help one of the
xxx people with MS in Herefordshire
Admin costs are kept to the minimum

actively look to control operating expenses so that the money raised can go to where it can best be used. If you are considering make a gift – go ahead and do it and play your part in easing the life of someone local living with MS.
Soon we expect to be able to accept donations online.We are adding online giving
through Virgin Money Giving
Please check back again to see how we are progressing if that is your preferred way to give.
There is a price paid by the charity for online donations, so if you want to go ahead and post a gift in the traditional manner we will be very pleased to receive it. All gifts are acknowledged. You can post it to:
Terry Court • 6 Holywell Gutter Lane • Hampton Dene • Hereford • HR1 1XA
You can set up a regular donation too using this online form. You can fill in the form online, save to your computer and print it, or simply download and print, then complete by hand. You will need to sign the form and send it to the address above so that we have a record, and we will send it on to your bank for action.
If you would like to speak to someone about your proposed donation then you can e-mail treasurer@hmsst.org or leave your details on the 'Contact Us' page and arrange to be phoned back.

WHICHEVER WAY YOU CHOOSE TO GIVE IT WILL BE GREATLY APPRECIATED